"Check me out now; spilling my guts on the radio"
'The Road Less Travelled EP' is the latest offering from rapper, singer and performer; Ill Sykes. Solely produced by beat maker and producer SheikhyGround, the EP is an eclectic portfolio of melodic yet melancholy and heart felt rap tracks taking UK rap back to the good old days when music would hit you straight in the feely bone…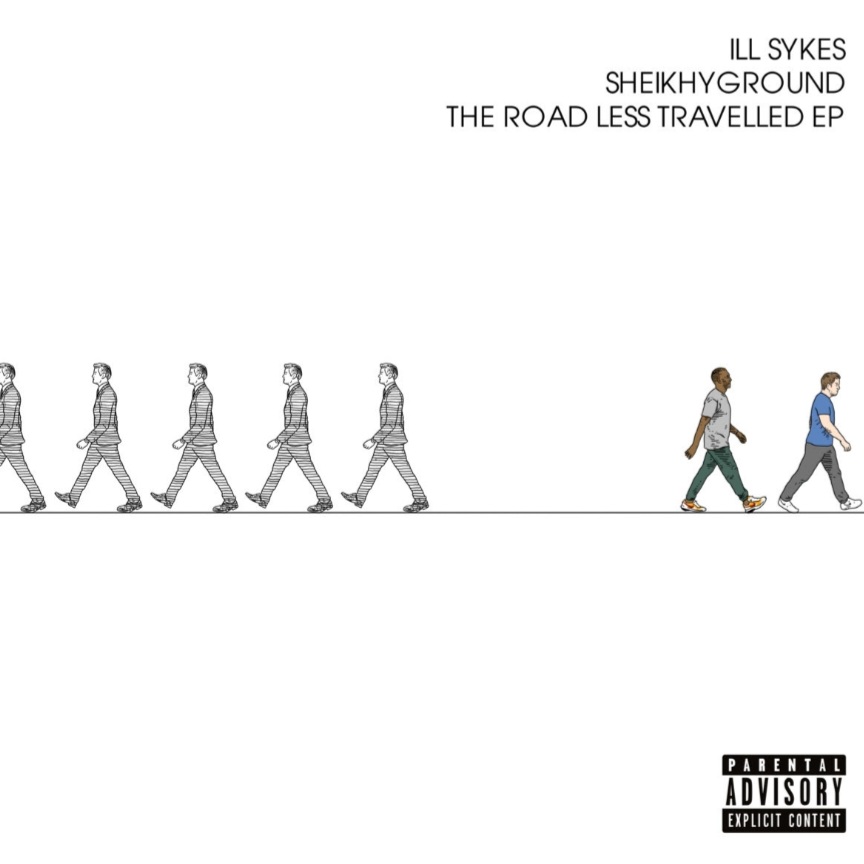 It's really honest music and lyrically, the whole project is just awe inspiring. With glowing spoken word lines like "they funnelled irrelevant information and rhetoric relentlessly in to my poor little head" and "I was left with the grand sum of the skills to see me fit to stack shelves in a warehouse" it's hard not to relate to 'The Road Less Travelled EP'.
In terms of production, the EP sounds cryptic and thoroughly emotional throughout which matches perfectly with the lyrical content and style from Ill Sykes. The beats are still hard though, don't ge it twisted, this isn't some run of the mill 'conscious rap' EP with lofi beats; 'The Road Less Travelled EP' is really saying something about how we live, what we do to ourselves as a society and the failings of a corrupted social operating system; so the beats and music needed to compliment that. And they really do. SheikhyGround brings home the beat making bacon with each of the six tracks on the release.
A stand out track that offers some variation and a bit of funk to the mix is a song called MVP. It takes bollucks to make a song with the same name as one by a legendry emcee like Big L, probably one of your favourite rappers favourite rappers, but Ill Sykes is different with it, and he's got them bollucks. Laden with a host of impressive lyrical flexing and raw, hard honesty met by a drum section with a touch more boom bap to it then most of the others on the 'The Road Less Travelled EP', Ill Sykes does more than enough to take up the mantel of Most Valuable Poet on the MIC.
He's one of the best emcees doing on the planet and if you want to get on the right track towards figuring that out for yourself then be sure to take 'The Road Less Travelled' a must-have EP by Ill Sykes and Sheikhyground.
Available now across all streaming platforms.